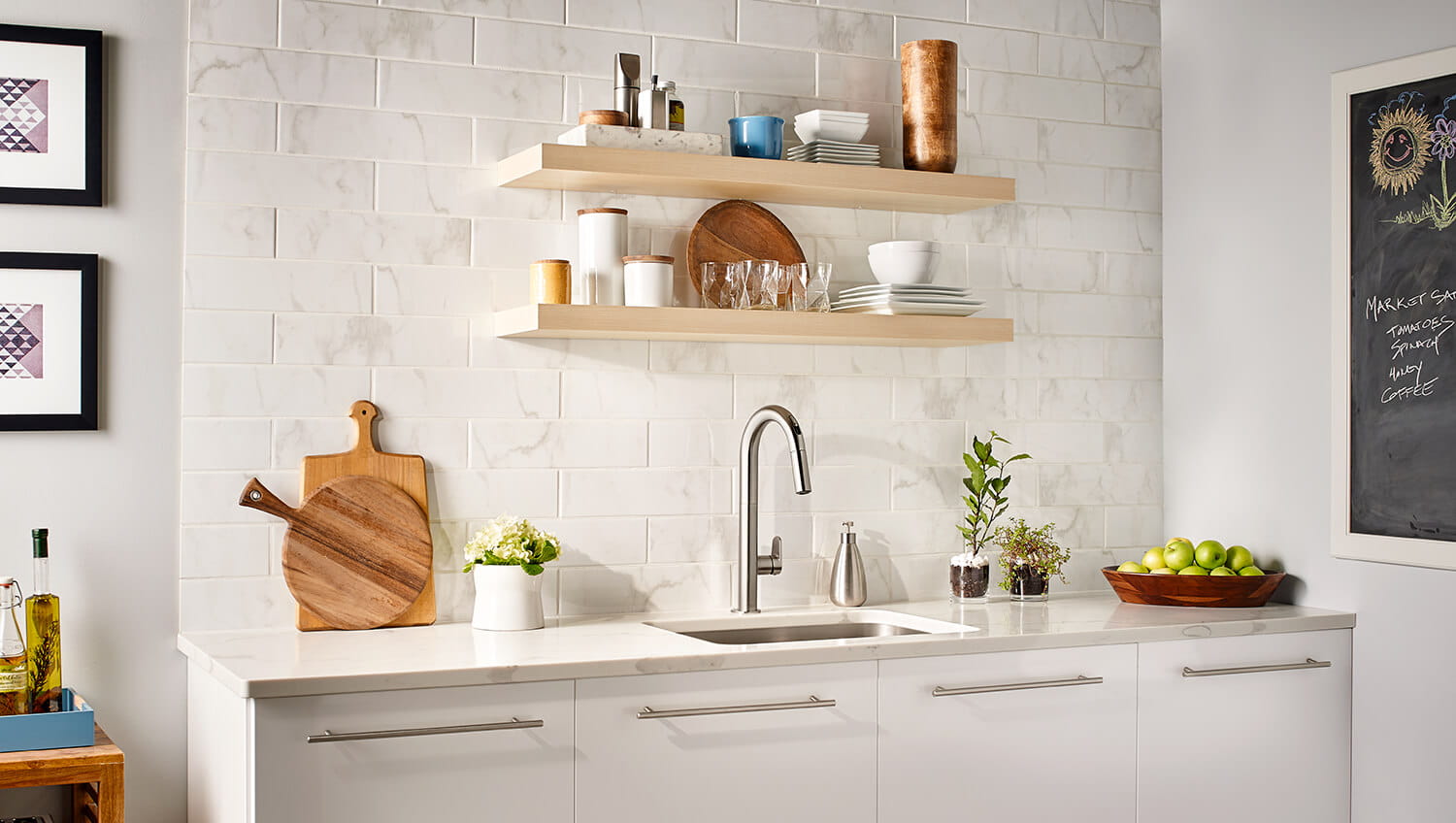 How to Choose a Kitchen Faucet
Your search for the ideal kitchen faucet is almost complete. As we review faucet styles, functions, and more, you'll be more confident in knowing which kitchen faucet is best for your home.
Look and Feel
A faucet with that perfect look and feel can really tie together the design of your kitchen.
After all, your kitchen faucet is one of the most used fixtures in your home, so it should look good!
Luckily, to create your ideal kitchen, you have options!
Modern, Traditional, Transitional, and Innovative
Whatever look you're going for, we have something you'll love!
For traditional, elegant, and farmhouse aesthetics we have our collection of Delancy, Heritage, and Portsmouth faucets.
Or maybe you're going for a more modern look. If so, check out our sleek and practical Studio S and Pekoe faucets.
We also cater to those with transitional tastes. Sounds like you? Then our Edgewater and Quince faucets may be a perfect match.
Lastly, we all want our daily lives to be easier and that's why we created our innovative kitchen faucets featuring Beale, Avery, and more!
So you have your style in mind and now it's time to choose your finish! With faucet finishes in polished chrome, nickel, matte black, stainless steel - the list goes on, you can find your perfect look and feel.
Browse through each option to envision which will best compliment your kitchen.
Form Follows Function
How will you be using your faucet? It's important to choose a faucet that ties in perfectly with your daily routine.
From washing dishes to everyday meal prep, deciding on a high arc faucet with a pull-down dual spray can be a crucial pick.
Take time to weigh your options. Deciding on a filtered faucet or no mess touchless faucet can make all the difference.
You also have to consider the installation and measurement details. Do you like the clean single-handle look? Or do you prefer a visually pleasing two-handle layout with a side spray?
Knowing how many holes your sink has, if you like pull-out or pull-down handles, and how you'll mount your faucet is key to making sound use and design choices.
Also, be wary of the current issues your faucet may have. Does it drip? Do you have issues with the temperature being too hot or cold? Maybe you like to dry dishes in the sink or have a soap dispenser at the ready. Then choosing the proper valves and accessories will make all the difference.
Take a look at your sink and shortlist what's most important to you.
Make Your Pick!
Imagine it, make it, and live it with our helpful product selector. We've created an interactive questionnaire to pair you with your ideal kitchen faucet in 4 easy steps.

We've made it simple to choose your faucet type, technology, and color. Give it a try, find a store, and be on your way to creating the kitchen of your dreams.
We're Here For All Your Kitchen Faucet Questions
Ok, so you've read this article and still have a few lingering questions. Great! Our Consumer Connection team is here to help with all inquiries.

Just send us a message through our form or give us a call.
Holes
Choosing a 3-hole sink with a 4" spread gives you the most faucet options, including the use of a 4" centerset, 4" mini-spread or a center-hole faucet with a base plate. However, some people prefer the simplicity of center-hole designs, or the traditional appeal of 8" spreads. The choice is yours to make, and enjoy.
Dripless Faucets
Consider how a new faucet will last. Or, more importantly, how long it will last without dripping. Faucets should offer long-term performance and be drip-free for life. Ceramic Disc Valving utilizes discs made of hardened ceramic, a durable material that won't wear out and won't leak even under the toughest water conditions.
Pull Out
Select bathroom and kitchen faucets feature a pull out or pull down spout in which the end of the spout of the faucet can e 'pulled out' from the rest of the spout similar to a side spray. These faucets allow you to bring the water flow to where you need it in the sink.
WaterSense®
If you're concerned with conserving water, look for WaterSense certified toilets. Developed by the Environmental Protection Agency, the WaterSense label is used on toilets and faucets that are certified by independent laboratory testing to meet rigorous criteria for both performance and efficiency.
View All Bathroom Faucets
View All Kitchen Faucets