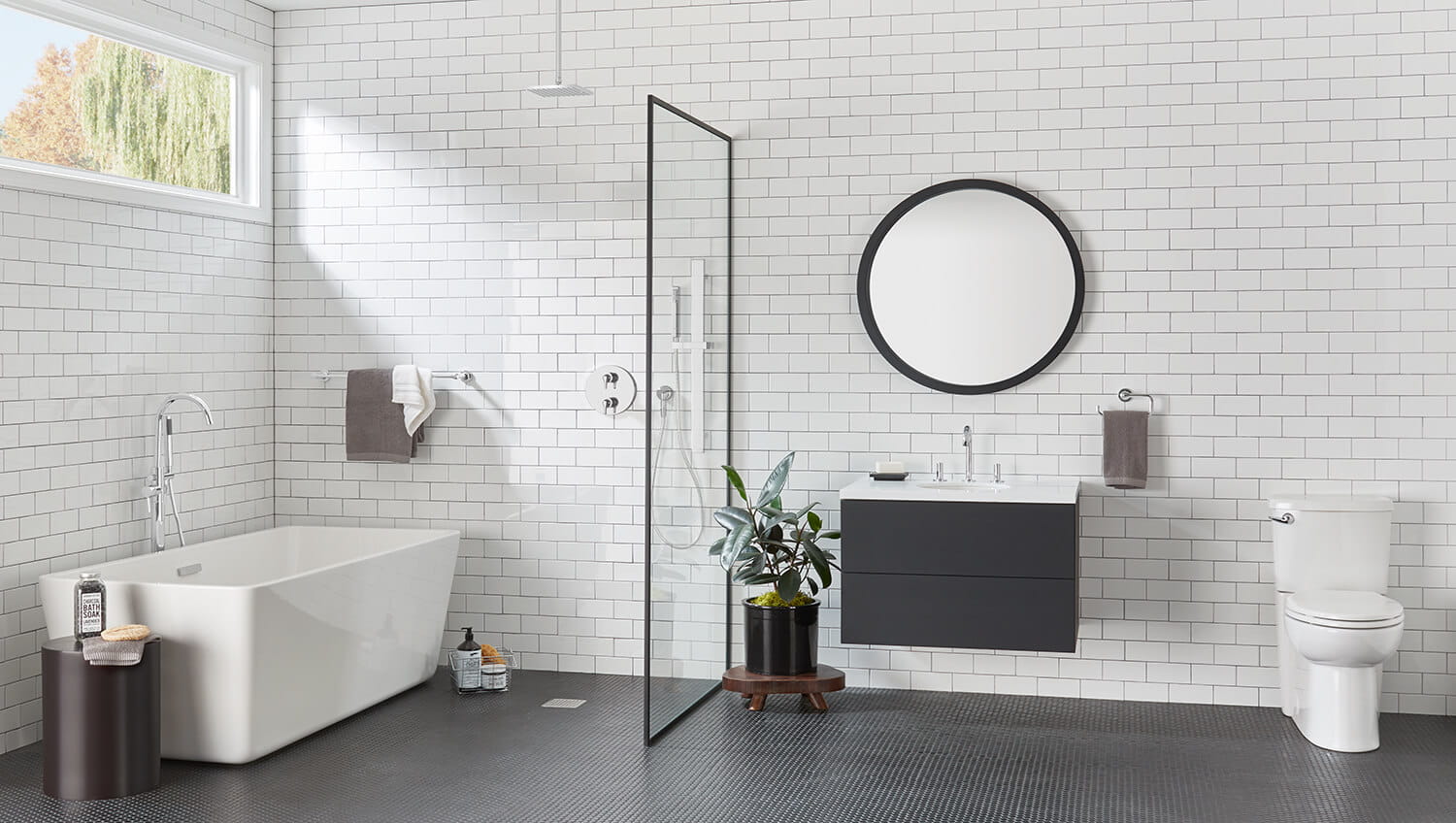 How to Remodel a Bathroom on a Budget
Before starting a bathroom renovation, it is important to define a budget for the project. It may seem daunting to design a bathroom with limited resources, but there are plenty of products to fit your style on a limited remodeling budget.

Choose Budget Friendly Design Styles


It's entirely possible to recreate a bathroom on a tight budget without sacrificing design or performance. American Standard offers a range of collections that are designed to be cost effective for any bathroom remodel.

• The Colony Pro Collection delivers traditional style and great value. Offering coordinating pieces for bathtubs, showers and sinks, you can create a stylish bathroom with the quality you expect.
• The Princeton Collection also offers quality, reasonably-priced bathtubs and faucets.

Select White Chinaware


Toilets, sinks, showers and tubs are available in a range of colors. Generally, a white toilet will be less expensive than its bone and linen counterparts. The same goes for tubs, sinks and shower bases. Although it might seem limiting or far from your ideal, the white fixtures will make the bathroom appear larger, cleaner and more modern.


Choose Water Efficient Bathroom Products


Invest in water-saving bathroom products that will help the environment and provide continuous cost-savings after installation. Choosing water-efficient toilets, faucets, and shower heads can help reduce your water bill by using fewer gallons of water while delivering comparable performance.

• High-Efficiency Toilets flush at a rate of 1.28 gpf to conserve up to 20% more water compared to a standard 1.6 gpf toilet
• Ultra High Efficiency Toilets flush at just 1.1 gpf to save even more water
• Dual Flush Toilets allow you to choose between a full or partial flush, depending on waste removal necessity
• EPA WaterSense Certified Bathroom Sink Faucets have a flow rate of 1.5 gpm at minimum. Our bathroom faucets are available with a flow rate of just 1.2 gpm, saving up to 45% more water. These water-saving faucets meet CEC requirements for California, and are ideal for water conservation in New York, Texas and Georgia
• EPA WaterSense Certified Showerheads have a flow rate of 2.5 gpm and are designed to conserve up to 40% more water than standard models

Faucet Styles


Faucets add style and are a centerpiece of your bathroom. You don't have to sacrifice style or performance to meet your budget. Instead of choosing a widespread faucet, consider:

• Single-hole faucets save space and only require one faucet hole drilling in your sink or vanity
• Centerset faucets are more compact than widespread faucets, and are available in single-handle and two-handle designs

Faucet Finishes


Certain color finishes may also be less expensive than others. Choosing a polished chrome faucet can also save you money when compared to brushed nickel and oil rubbed bronze faucets of the same style.


Choose Versatile Designs that can be Easily Changed


For design flexibility, selecting a TRIMendous shower trim kit will allow you to change the trim in the future should your design preferences change. By selecting one of our pressure balance valves, you are opened to twelve trim kit options that you can choose from, or change to if you decide to update the look of your bathroom at a later time. The finishes offer modern, traditional and transitional looks as well as innovative product lines such as FloWise to conserve water.


Accessible Style Options for Any Budget


• Walk-in Tubs
• Select a smaller tub. It uses less water and can be retrofit to a standard tub space.
• Soaking tubs will be less expensive than massage tub options
• Low Threshold Shower Bases
• Seated shower bases offer multigenerational design
• Right Height toilets and sinks are perfect for multigenerational homes.

Redesigning a bathroom on a budget can be simple and expansive. Explore your options and figure out where you want to splurge, save, and invest in future cost-efficient options.