American Standard Delivers a Homerun for SunTrust Park
The Atlanta Braves' baseball team – originally known as the Boston Red Stockings – began its legacy in that New England city in 1871. Throughout many years and several moves, the franchise has cultivated great teams and stand-out players, all driven by a common passion for the game. They realized memorable historic moments, like when the 1914 "Miracle Braves" achieved the greatest come-from-behind season in baseball history to win the World Series.
Just seven years after the start of the Braves' franchise, American Standard — then known as Standard Manufacturing Company — perfected an innovative manufacturing process that resulted in the birth of the modern bathroom as we know it today. Nearly 140 years later, American Standard continues to thrive, driven by its own great team of "players" with a passion for plumbing and the life-changing role it plays in everyday lives.
With both these well-known brands having storied histories and passions for their craft, it's no wonder they came together in this successful business partnership to hit a home run for the customer experience, delivered in the new Atlanta Braves' SunTrust Park.
In 2017, SunTrust Park opened, marking a new chapter for the Atlanta Braves. Preceded by Turner Field — which previously had limited commercial development outside the stadium — SunTrust Park has become a "destination place" in Atlanta as the centerpiece of a new, state-of-the-art lifestyle district called The Battery Atlanta. Abounding in modern amenities, this mixed-use development — which attracts people looking for diverse entertainment experiences — includes restaurants, retail, theatre, sports attractions, as well as residential living. The combination of game attendees and visitors desiring the amiable comforts meant much higher foot traffic and the need for modern facilities that could support it.
The design of the ballpark was crafted with all public restrooms centrally located throughout the facility to ensure easy, convenient access. To accommodate the increased attendance, the Braves organization wanted to provide a cleaner, more enjoyable restroom experience for ticket holders, while efficiently managing operational costs. To achieve these goals, the Braves chose fixtures and fittings from American Standard, part of LIXIL, for all the stadium's bathrooms and employee locker rooms, featuring product design and technologies that would operate effectively with heavy use, while saving water and energy costs.
"SunTrust Park now accommodates traffic for 41,000 fans and our employees, so we needed public restroom fixtures designed to work flawlessly while holding up to the demands of public use," said Mike Plant, president of development, Atlanta Braves. "We chose American Standard because their plumbing fixtures and faucets are stylish and also meet the performance standards required at commercial restrooms, including sustainability, maximum hygiene and overall user comfort."
"American Standard was thrilled to partner with this remarkable organization as they began their next chapter with the new construction of SunTrust Park," said John Gillespie, vice president, marketing, LIXIL Americas, the business unit under which American Standard operates. "Helping to provide a more comfortable experience for the Braves' fans, while saving money for their organization, was our objective with this project. With our breadth of products, we were able to provide plumbing solutions throughout SunTrust Park, ranging from the general public restrooms to the elite club level facilities to the employee locker room."
Saving Water and Money in Popular Gathering Spots
There are plenty of viewing options at SunTrust Park, providing a variety of game day experiences for baseball fans. The ballpark is designed with gathering spots—including the Xfinity Rooftop lounge, the Terrapin Taphouse brewery restaurant, and the popular Chop House eatery and bar—for watching the game and socializing over good food and drinks.
With these social spots generating a lot of community buzz upon its opening, the ballpark had to properly accommodate the increased foot traffic to the public restrooms on this stadium level. The solution: installing fixtures and faucets that controlled water consumption while still providing optimum performance, especially during peak usage periods between innings.
The men's and women's restrooms on the general public levels showcase the American Standard pillar tap metering faucet with an extended spout. Ideal for commercial facilities like the SunTrust Park, this ADA-compliant metering faucet features easy push-on operation and an automatic shut-off after every 10-second water flow cycle.
Designed to save water, energy and money, this faucet promotes water conservation, operating with an 0.5 gpm pressure-compensating, non-aerated spray. These durable, polished chrome faucets are paired with the American Standard ADA-compliant Lucerne wall-mounted sink, which features a "D" shaped bowl that prevents side splashing and a contoured back for more wash space.
The high-performance Afwall Millennium FloWise elongated wall-hung toilet matched with a 1.28 gallons per flush (gpf) manual flush valve — both from American Standard — were installed in the men's and ladies' lavatories throughout the ballpark to provide powerful flushing along with water conserving operation. This high-efficiency toilet includes a heavy-duty commercial seat made from solid polypropylene for durability and featuring the brand-exclusive EverClean permanent finish that inhibits the growth of stain and odor-causing bacteria, mold and mildew, keeping the seat cleaner in between routine maintenance.
Ultra high-efficiency American Standard Washbrook FloWise universal urinals are fitted into the men's restrooms on both the club and general public levels. These low consumption urinals — which are WaterSense-certified for water efficient performance — operate with a manual flush valve using only 0.125 gpf. In high-use facilities like SunTrust Park, this urinal and flush valve combination from American Standard can reduce water consumption by 87 percent versus traditional urinals. Additionally, the flush valve features a self-cleaning piston with integral wiper spring that helps prevent clogging and reduces maintenance time, saving time and money for the organization.
Investing in Club-Level Premium Comfort with American Standard
On the club level, spectators seeking a higher level of comfort can watch the game outdoors in their luxury seats, while enjoying all the amenities of an indoor, climate-controlled area.
The SunTrust Club — with a select 160 premium seats located directly behind home plate — provides the ballpark's most exclusive seating environment with the best views of the field. Another choice hospitality venue in the ballpark is the 15,000-square foot Delta Sky360 Club, available to 1,500 members desiring prime seating between the two dugouts.
Club level restrooms are graced with the dramatic high-arch design lines of the Concetto single-lever sink faucet, manufactured by GROHE, sister company to American Standard. Its brand-exclusive GROHE SilkMove technology ensures effortless precision operation for a lifetime, while its durable GROHE StarLight chrome finish repels soil and scratches for easier maintenance. It also features an adjustable flow rate limiter to keep water usage costs in check for the Braves.
Creating a More Comfortable Experience for Employees
Atlanta Braves' staff have access to a corporate onsite fitness facility located inside the SunTrust Park. To provide employees a more comfortable and customized shower experience after an energetic gym workout, this locker room is outfitted with the American Standard FloWise 3-function water-saving showerheads. It delivers an invigorating shower – with a choice of three different spray patterns – while saving up to 40 percent on water usage for the Braves. Plus, it automatically reverts back to the low 1.5 gpm flow setting when the shower is turned off. This traditionally styled FloWise 3-function showerhead is a true win-win in terms of optimum comfort for the Braves' staff, and maximum water efficiency for SunTrust Park.
Employees also have the option of using a convenient hand shower as part of an American Standard shower system that features a 36-inch long slide bar, making it accommodating for users of varying heights. Plus, this 3-function hand shower includes a non-positive shut-off for ADA-compliance, making this showering facility safe and accessible.

"American Standard has more than 140 years of experience raising the standard of performance in products and sustainability. So much that the SunTrust Park is the only ballpark in the U.S. that has official American Standard branded restrooms," added Gillespie, referring to an exclusive partnership between the popular plumbing brand and this legendary baseball organization.
Two Legacies of Purpose
As part of the global LIXIL Corporation, American Standard is inspired by the belief that water is always pushing ahead and flowing forward to make things that matter. From Boston to Milwaukee to Atlanta, the Braves baseball franchise has also pushed forward to become the oldest continuously operating professional sports franchise in America. It seems appropriate to say that American Standard and the Atlanta Braves — two teams with a history of moving forward with force and purpose — came together to make something that matters for everyone at SunTrust Park.
In 2017, Major League Baseball's Atlanta Braves moved into the newly constructed SunTrust Park. The Braves partnered with American Standard to install fixtures and fittings in all bathrooms and locker rooms throughout the building.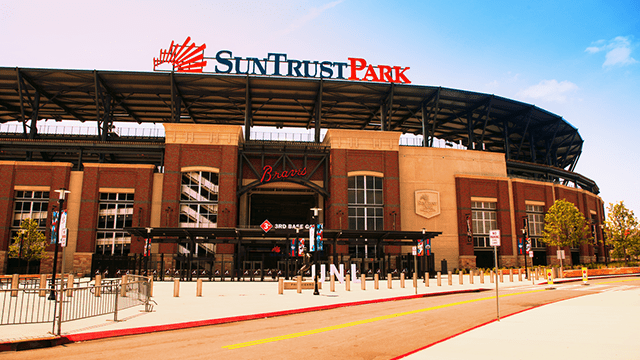 To accommodate the higher foot traffic and heavier public use, facility managers at SunTrust Park chose American Standard fixtures and fittings for installation in all the ballpark's bathrooms.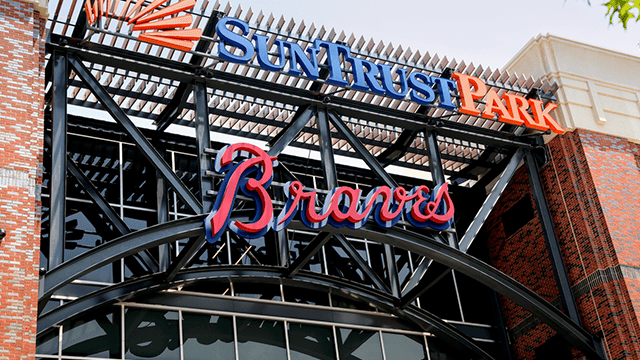 American Standard, provided faucets, sinks, toilets, urinals and showerheads to outfit the restrooms and locker rooms in the new 41,000 seat SunTrust Park.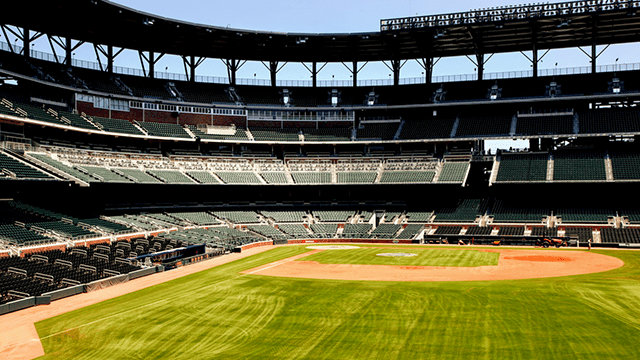 The popular Chop House restaurant is a favorite spot on the lower level of SunTrust Park, where American Standard fixtures and faucets are featured in the public restrooms.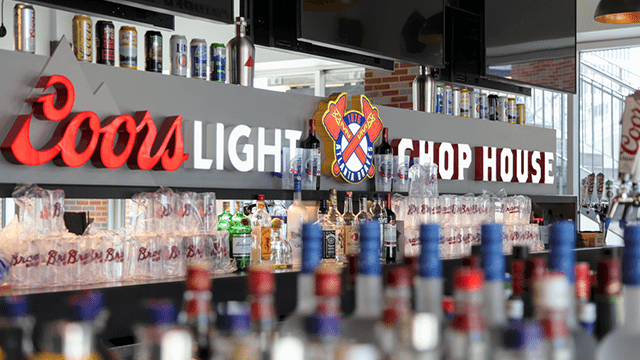 Lucerne wall-mounted sinks are paired with water-saving pillar tap metering faucets, all from American Standard, to outfit the public restrooms in the Atlanta Braves' SunTrust Park.
Both the SunTrust Club and the Delta Sky360 Club provide a clean, comfortable experience for their club-level ticket holders, with the high-performance American Standard Afwall Millennium FloWise toilet and manual flush valve that consume only 1.28 gpf.
The WaterSense-certified Washbrook FloWise universal urinal and manual flush valve from American Standard operate in combination to provide water efficient performance using only 0.125 gpf.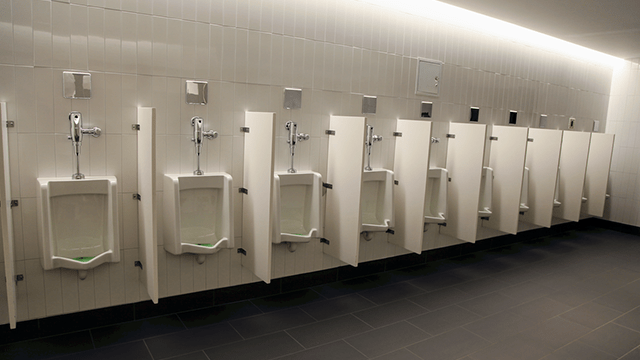 Single-handle GROHE Concetto bathroom sink faucets showcase sleek, slim design lines, along with water efficient performance, in the club-level restrooms at SunTrust Park.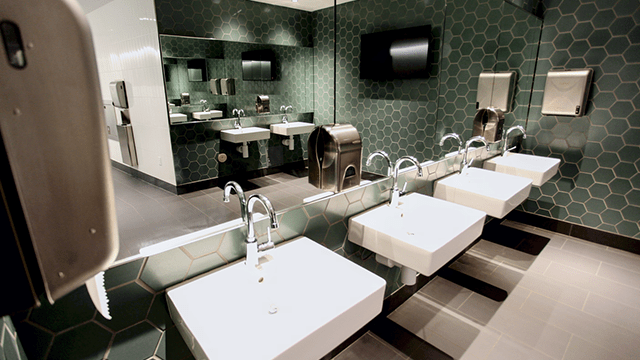 Located in the Atlanta Braves' employee locker room, the American Standard FloWise 3-function water-saving showerhead employ a patented turbine technology that saves up to 40 percent on water usage while delivering a drenching shower experience.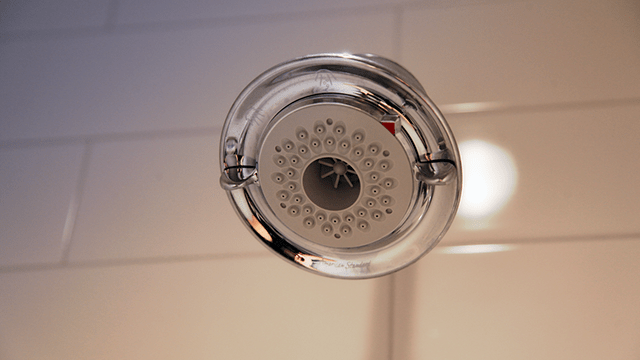 This commercial shower system from American Standard includes a convenient 3-function hand shower with 36-inch slide bar to accommodate the mobility needs of various users.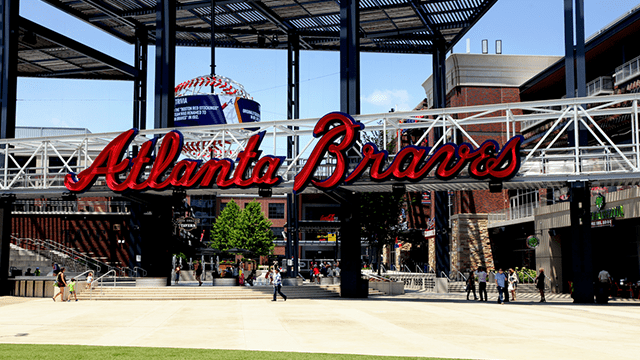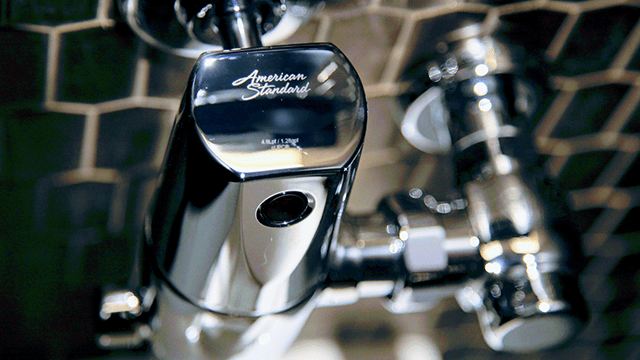 ###
Afwall®, FloWise®, EverClean®, and Washbrook® are registered trademarks of American Standard Brands.
Millennium™ and Lucerne™ are trademarks of American Standard Brands.
Concetto®, GROHE SilkMove® and GROHE StarLight® are registered trademarks of GROHE AG.
WaterSense® is a registered trademark of the U.S. Environmental Protection Agency (EPA).