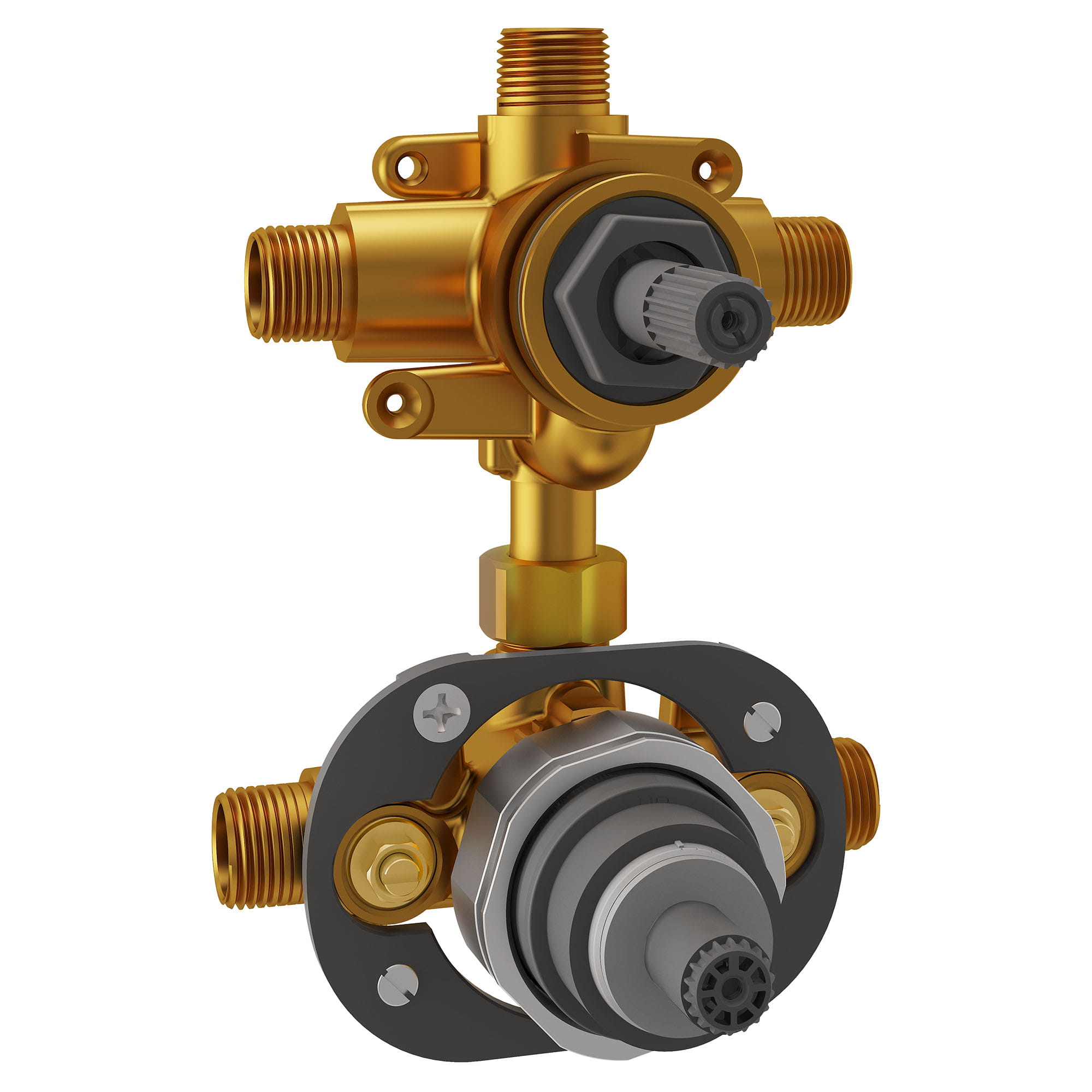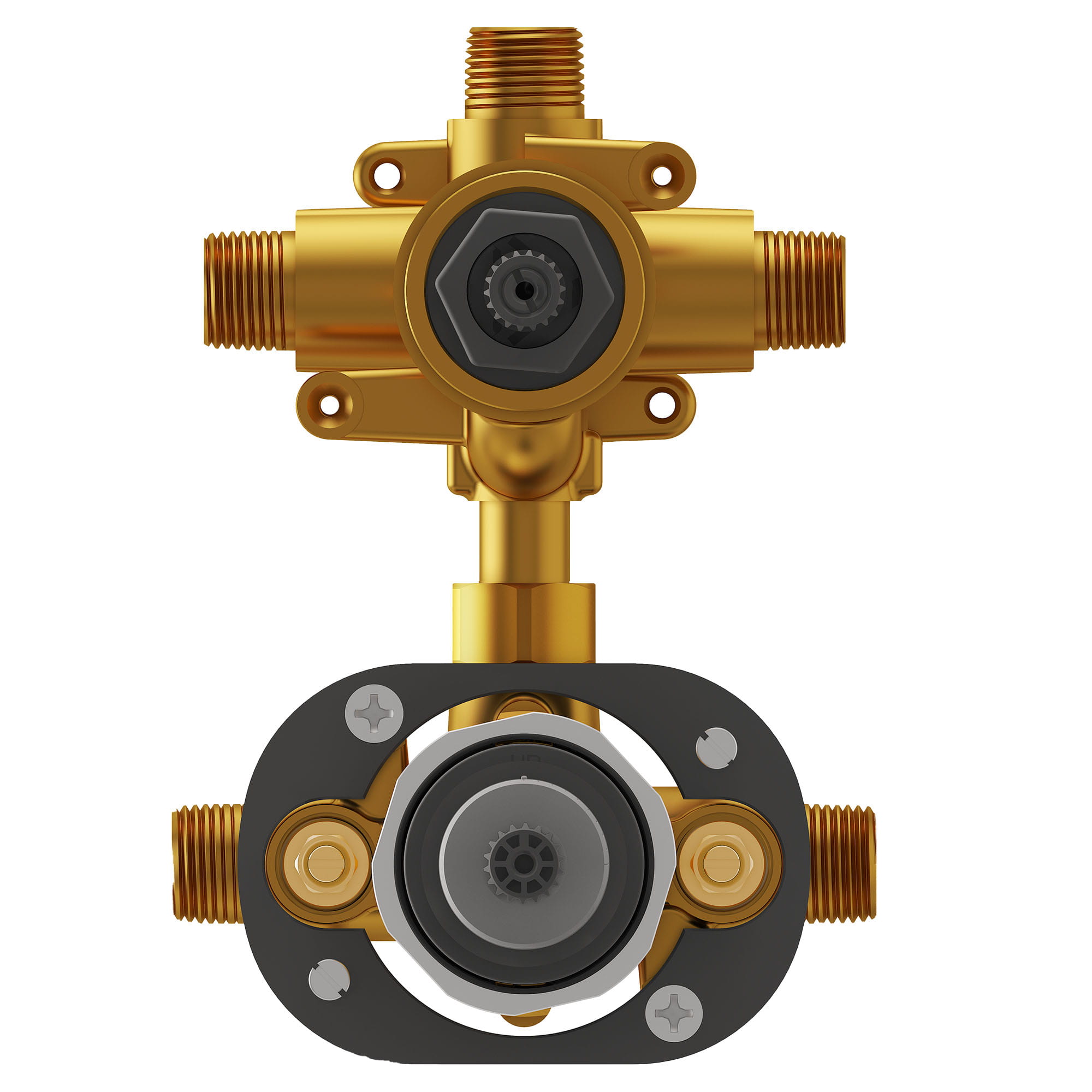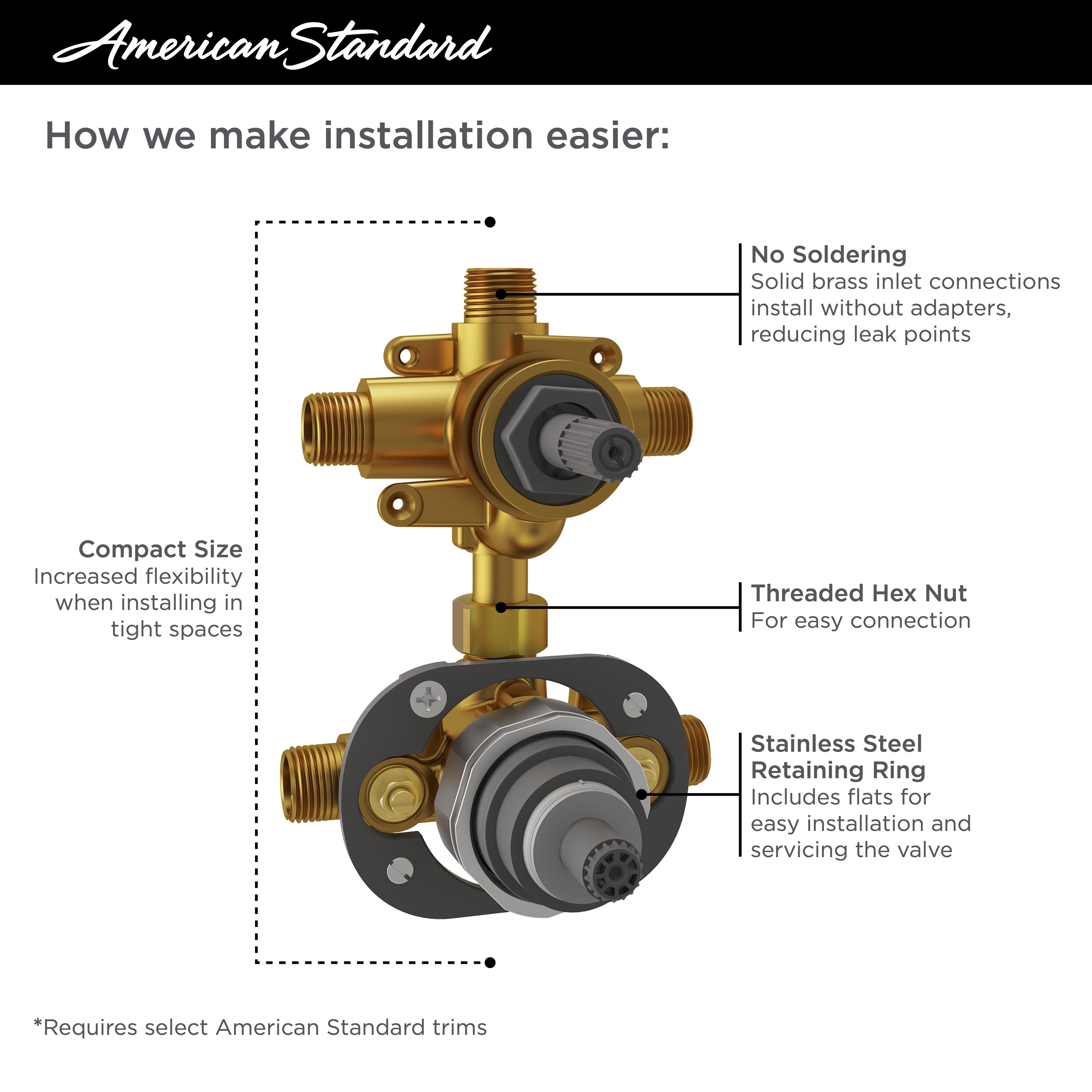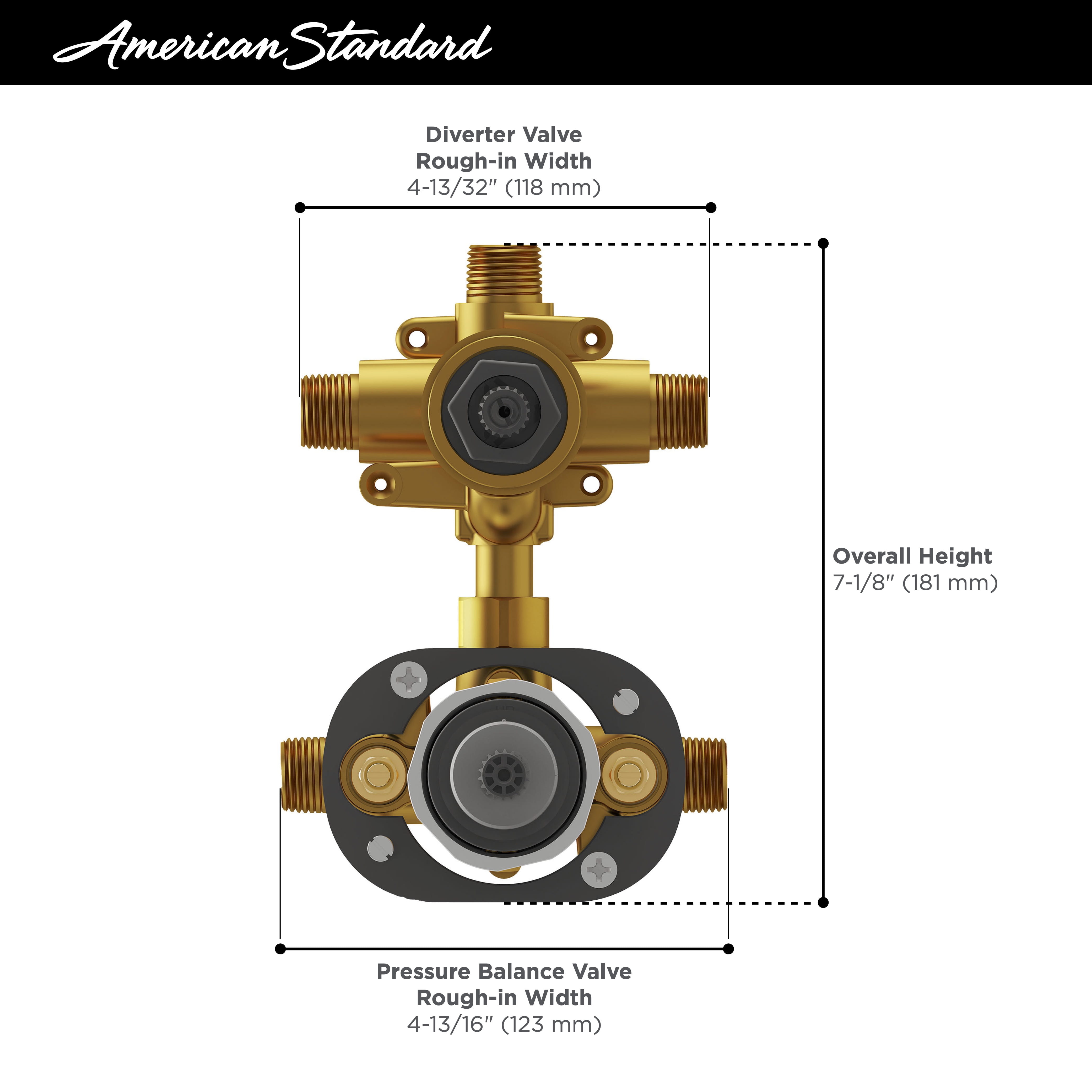 Flash® 3-Way Integrated Shower Diverter Rough-In Valve with Pressure Balance Valve Cartridge
List Price:
Buy Now Price:
List Price:
COMPACT DESIGN — Smaller body fits in tight spaces
EASY TO INSTALL — Flat back mounts securely on cross brace
3-WAY DISCRETE FUNCTION — Optional shared function capability
Product Description
The Flash 3-Way Integrated Shower Diverter Rough-In Valve, with pressure balance valve cartridge, is an innovative design developed by American Standard to make installation easier and showering more enjoyable. Featuring a flat back for flush mounting on the cross brace, and a compact body to accommodate tight spaces, the Flash Integrated Diverter Rough-In Valve delivers unmatched convenience and versatility. The pressure balance valve cartridge is equipped with ceramic disc valve and ceramic pressure balancing spool to ensure drip-free performance, a reduced risk of scalding, and resistance to harsh water conditions for exceptional durability and lasting performance.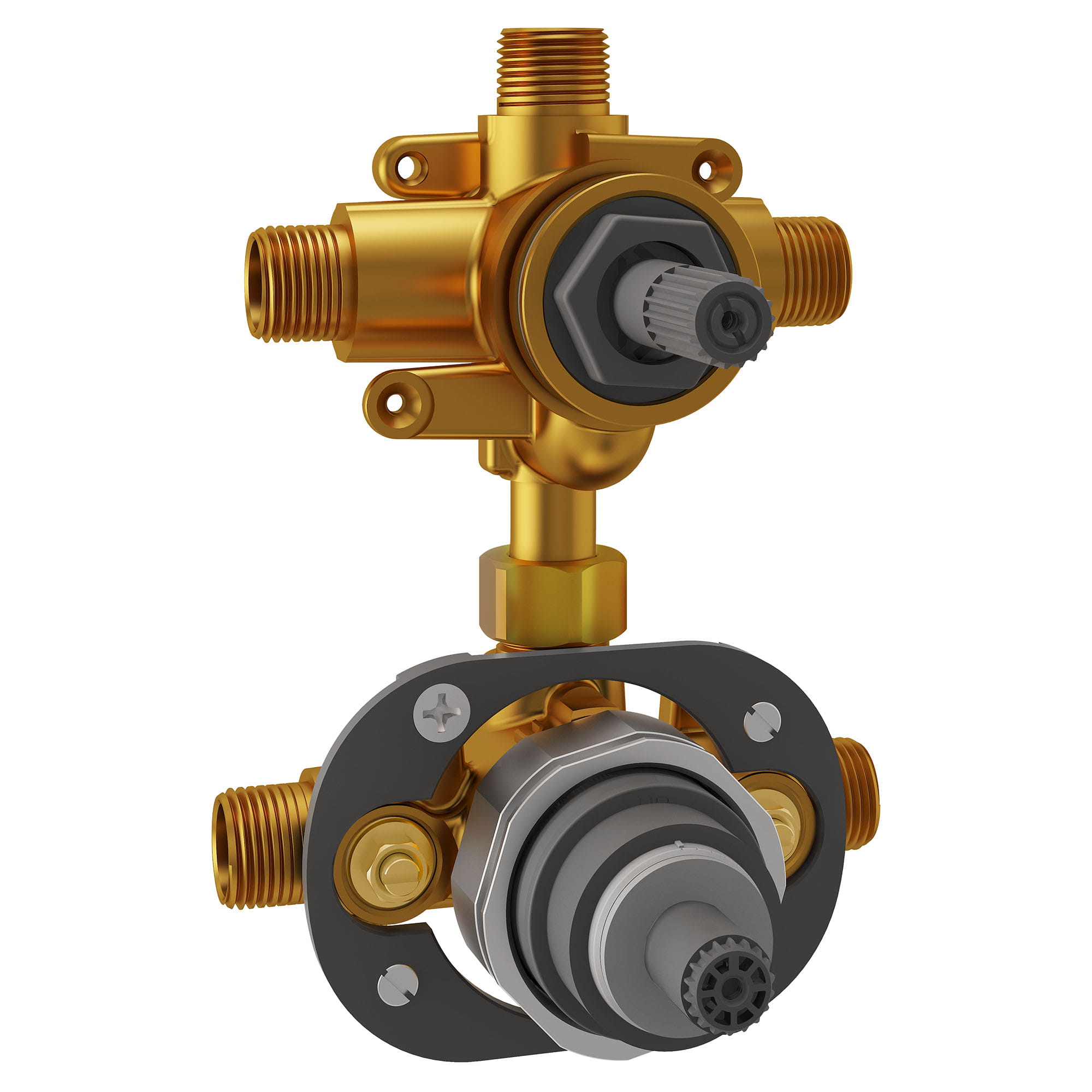 Flash® 3-Way Integrated Shower Diverter Rough-In Valve with Pressure Balance Valve Cartridge
Feature
VERSATILE INSTALLATON — Compact body and flat back for easy and solid installation
3-WAY DISCRETE FUNCTIONALITY – Provides the ability to alternate water flow among 3 separate outlets
OPTIONAL SHARED CAPABILITY - Provides the ability to share water flow simultaneously from any 2 outlets with the addition of shared cartridge, M970730-0070A, sold separately
150° COMFORT RANGE — Provides a wider, more usable temperature range when fine-tuning water for the perfect shower
NO SOLDERING REQUIRED — Solid brass inlet connections for fast installation without adaptors, reducing leak points
QUALITY PRESSURE BALANCE VALVE — Double ceramic technology ensures faster adjustment to changes in water pressure to eliminate scalding, and a guarantee of drip-free performance for life
EXCLUSIVE PLASTER GUARD — Protects valve and acts as a guide during installation; can serve as mounting support for thin-wall installations
SELF-ALIGNING SCREW HOLES — Screw holes are easy to find; simplifies reattaching plaster guard to valve body
EASY SERVICING — Screwdriver stops for servicing at the valve
COMPATIBLE TRIMS — Designed for use with select American Standard trims: Town Square S, Townsend, Studio S, Delancey, Serin and Times Square