Compare Bidets & Bidet Toilets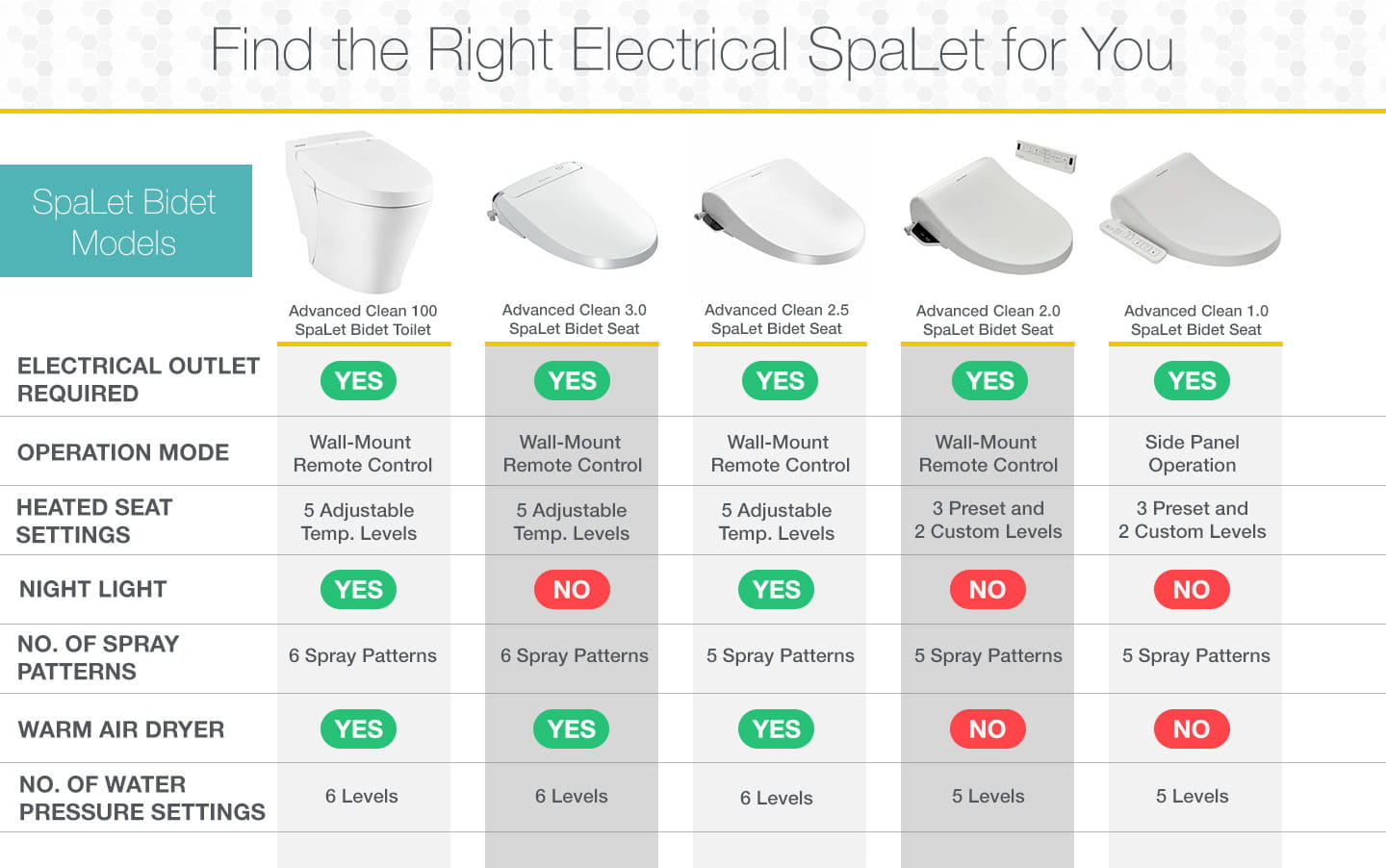 Bidet Seat & Bidet Toilet Comparisons
How Do I Know What Bidet Toilet Seat to Choose?


Now that you've decided you want to switch to a bidet toilet seat, figuring out the right one for you is the next step. We're here to help you find the perfect SpaLet bidet toilet seat.
Manual Non-Electric Bidet Toilet Seat
A manual Bidet Toilet Seat does not require electrical power to operate. This is ideal for bathrooms where the toilet is not near an electrical outlet.
Non-Electric Bidet Toilet Seat Features
Adjustable spray patterns and detachable nozzles
Fits most conventional toilets
One button push lift-off feature for easy cleaning


Non-Electric Bidet Seat Drawbacks
No seat warmer

Water temperature cannot always be controlled


Electric Bidet Toilet Seat
An electric bidet toilet seat, like SpaLet, requires an electrical outlet to power the bidet. The additional power allows for greater customization and additional features. The power source allows for the heated seat, adjustable water temperature, and adjustable spray patterns. EcoMode is available for the SpaLet Bidets to save energy when not in use.
These controls come in the form of a remote control or side panel. The remote control requires 2 AAA batteries and can be placed on a wall near the toilet. The side panel is attached to bidet and does not require any batteries. If you have limited space between the toilet and sink, you may want to consider the remote control box.
Electric Bidet Toilet Seat Features
Self-Cleaning water spray nozzles for independent front and back cleansing
Easily attaches to most conventional toilets
One-push Removable Seat for easy bowl and seat cleaning


Massage features
Electric Bidet Seat Drawbacks
If you do not have an electrical outlet near your toilet, you will need to get this installed by an electrician.
What features do you want in a bidet toilet seat?
With the SpaLet bidet toilet seat you can personalize your cleansing experience. With multiple options for added comfort, the SpaLet provides the below features:
Heated Seat

With 5 temperature settings to choose from, everyone in the house can choose their optimal seat temperature.
Spray Patterns
The SpaLet offers 5 indulgent spray options for a washing experience completely tailored to your preferences. Choose from:
Posterior cleansing spray
Posterior oscillating spray
Posterior pulsating spray
Front feminine cleansing spray
Front feminine oscillating spray


Adjustable Spray
Choosing the ultimate spray angle from the SpaLet, you can be rest assured that waste is washed away and you are getting thoroughly clean.
Water Temperature control

Ranging from 90⁰F to 100⁰F, you can set the ideal temperature for cleansing. With a Midrange temperature of 97⁰F, you can select a temperature setting that is just right.
Self-cleaning Nozzles
Self-cleaning nozzles rinse themselves before and after every use for a sanitary cleansing experience. They will return the nozzle shutter between uses to prevent waste from building up on the nozzles for a reassuring feeling of clean.