Leading Plumbing Manufacturer, LIXIL Americas, and Tools & Tiaras Inc. Hold Skilled-Trade Summer Camp for Girls
Jul 14, 2021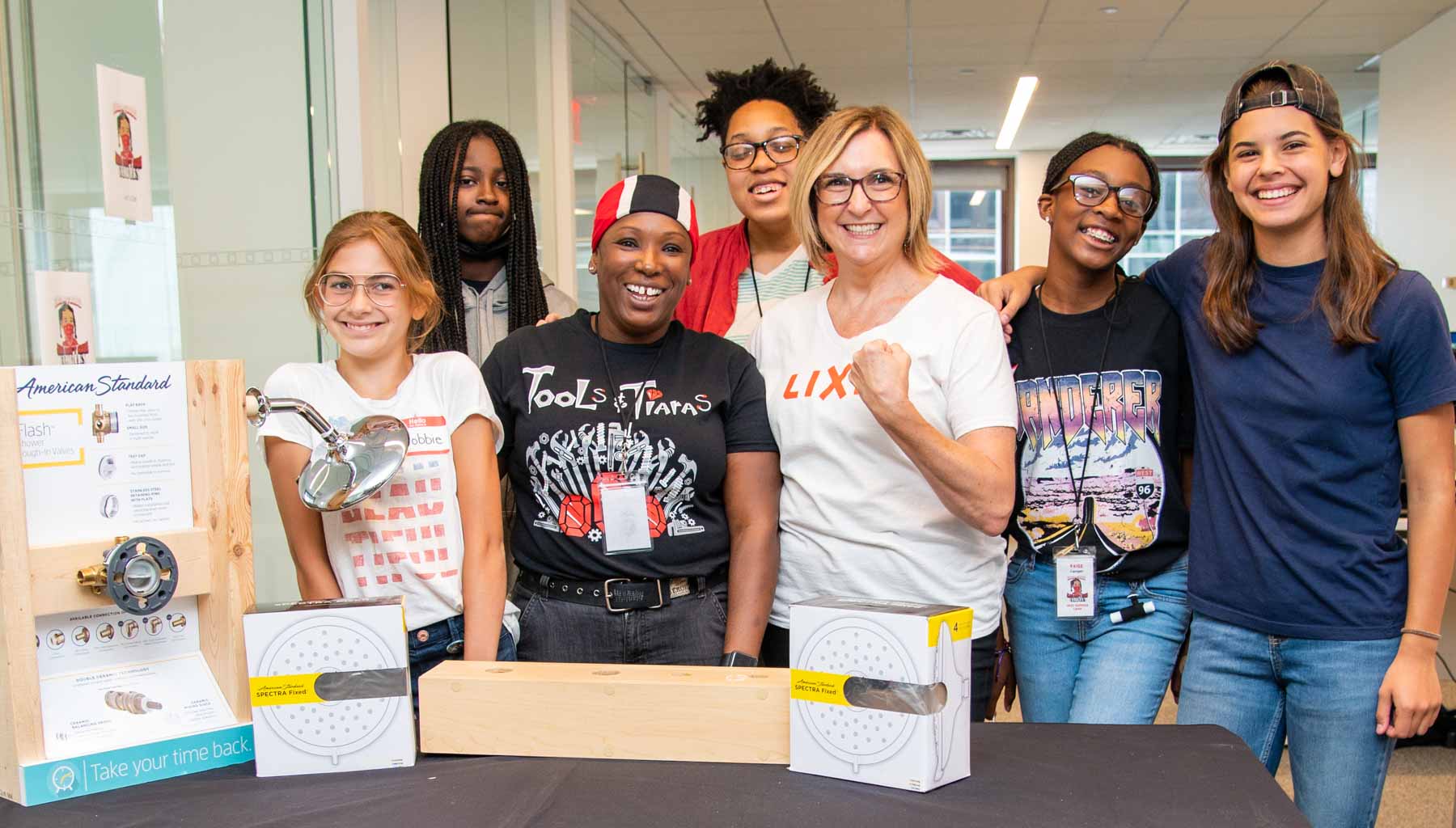 Tools & Tiaras campers join founder, Judaline Cassidy, and LIXIL's Leader of Communications, Debbie Drury, in celebration of a successful shower head installation. The installation was part of a July 15 Tools & Tiaras plumbing workshop in New York City which encouraged young girls to pursue careers in plumbing and other skilled trade professions and was sponsored by LIXIL Americas.

New York, NY (July 15, 2021) – On Thursday, July 15, LIXIL Americas, leading plumbing manufacturer and home to iconic kitchen and bath brand American Standard, partnered with Tools & Tiaras Inc. to sponsor a plumbing-focused workshop as part of the multi-day summer camp designed to introduce young girls and women to the skilled trade industry. Tools & Tiaras is an organization dedicated to advancing the interest of young girls and women who want to pursue careers in traditionally male-dominated trade professions. The initiative is one effort to help reduce the downward labor shortage trend in the skilled trade industry. For every five tradespeople who retire, only one enters the industry, and in 2020 only 2.3 percent of plumbers, pipefitters, and steamfitters in the U.S. were women.

"We are committed to making a positive impact in the communities where we live and work," said Debbie Drury, leader, communications, LIXIL. "Knowing that plumbers protect the health of the nation, yet the number of people entering plumbing and trade crafts is on a steady decline, we believe it is our duty to support programs that encourage the pursuit of plumbing as a profession. It is particularly exciting to be partnering with Tools & Tiaras, whose purpose is to empower ambitious and determined young women to knock down the social barrier of entering these trade professions," said Drury.

The multi-day vocational camp featured female participants, ages 13-17, who were interested in learning more about the skilled trade industry. The plumbing workshop was one of several programs throughout the week designed to teach the girls about careers in the construction trades and STEAM through hands-on projects. Thursday's attendees were provided instruction and participated in a hands-on plumbing workshop led by Tools & Tiaras Founder Judaline Cassidy. Campers also had the opportunity to practice installing kitchen and bathroom faucets, provided by American Standard. The event helped bring to life the Tools & Tiaras mission to empower girls to lead and succeed in male-dominated trades such as plumbing.

"As a woman in the plumbing industry, I've fought many of my own challenges with confidence and grit along the way," said Cassidy, a union plumber by profession. "I founded Tools & Tiaras to give back to my community and empower girls to develop the skills and courage to enter the trades themselves. I want them to know a career in the trades is both rewarding and possible, reminding them that jobs don't have genders."

Through workshops and camps, Tools & Tiaras' mission is to change the way our society views and portrays what constitutes "women work." The alignment of the two organizations is part of LIXIL's Trade Up effort, a program created to help raise awareness of the skilled labor gap in the United States by supporting programs that inspire more people to pursue plumbing as a viable career option.

For more information on Tools & Tiaras, visit www.toolsandtiaras.org.
About LIXIL
LIXIL (TSE Code 5938) makes pioneering water and housing products that solve everyday, real-life challenges, making better homes a reality for everyone, everywhere. Drawing on our Japanese heritage, we create world-leading technology and innovate to make high quality products that transform homes. But the LIXIL difference is how we do this; through meaningful design, an entrepreneurial spirit, a dedication to improving accessibility for all, and responsible business growth. Our approach comes to life through industry leading brands, including INAX, GROHE, American Standard, and TOSTEM, [as well as specialty brands such as DXV]. Approximately 55,000 colleagues operating in more than 150 countries are proud to make products that touch the lives of more than a billion people every day.

Learn more at lixil.com, Facebook and LinkedIn.

ABOUT AMERICAN STANDARD
American Standard makes life healthier, safer and more beautiful at home, at work and in our communities. For more than 140 years, the brand has innovated and created products that improve daily living in and around the bathroom and kitchen for residential and commercial customers. It has been recognized with more than 35 product innovation and design awards in the past five years. American Standard is part of LIXIL, a global leader in housing and building materials products and services. Learn more at americanstandard.com, or follow us at Facebook, Twitter, YouTube, Pinterest, Instagram.

ABOUT TOOLS & TIARAS
Tools & Tiaras Inc is committed to advancing the interests of young girls and women who want to pursue non-traditional careers. T&T motivates young girls and women who dream of having a career in the male-dominated construction industry. We make available a community network to help young women connect with professionals, mentors and leaders in the industry thus providing the support needed at all stages of their journey.