Water is laying on top of the bowl.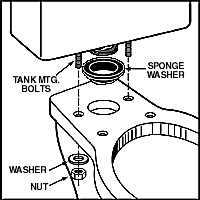 Remove the tank cover and place a level across the top of the tank.


Locate the mounting nuts and bolts underneath the tank.


Using a wrench, tighten the nuts on each side one-quarter turn at a time.


Important: Turn only the nuts. Do NOT turn the bolts.


Go back and forth until the tank is secure.


Important: It is important to tighten the nuts evenly or the china may break.


Does the problem persist?