Jeannette Long of LIXIL Speaks at United Nations' World Toilet Day Event on Toilets and Jobs
Dec 1, 2016
PISCATAWAY, N.J. (December 1, 2016) ― In observance of the 15th annual World Toilet Day, Jeannette Long, vice president of marketing communications for LIXIL Americas, was invited to speak at a special "Toast to Toilets" event at the United Nations in New York City on November 21, 2016.
Long shared remarks on the Company's business initiatives that aim to improve sanitation and help save lives in developing countries. She highlighted the SATO products invented by American Standard and expanded under the LIXIL brand, which are supported via a sustainable global business model.
Jim McHale, Ph.D., vice president, LIXIL, and general manager of the SATO business unit, was in attendance to demonstrate the low-cost, high-quality SATO products that LIXIL has developed for use in East Africa, in addition to the original latrine pans created for use in Bangladesh.
Long's comments followed the keynote address given by Jan Eliasson, deputy secretary-general of the United Nations, and a welcome given by Maria Calivis, deputy executive director of UNICEF.
The theme of this year's World Toilet Day focused on toilets and jobs, calling attention to the numerous ways that inadequate sanitation can affect the economy and the livelihoods of people around the world. The illnesses caused by a lack of sanitary toilet facilities at work and at home can increase absenteeism and exhaustion for employees, leading to a decrease in productivity.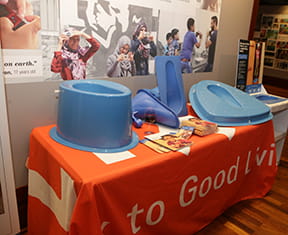 The SATO toilet pan range from LIXIL was on display at a recent United Nations World Toilet Day event in New York City. These hygienic toilet pans close off pit latrines from the open air, helping prevent the spread of disease via flying insects coming into contact with human waste.
Started by the World Toilet Organization, the goal of World Toilet Day is to raise awareness about this critical global health issue and support the many organizations working to create change. World Toilet Day was officially recognized by the United Nations in 2013.
For more information, visit www.lixil.com. For a comprehensive report summarizing the effects of unsafe sanitation facilities, click here to read a report.
ABOUT LIXIL
LIXIL is the most comprehensive and connected global company in the housing and building industry, delivering human-centric innovation that enhances people's living spaces – we call this Living Technology. Delivering core strengths in water, housing, building and kitchen technologies, our brand portfolio including LIXIL®, GROHE®, American Standard Brands, DXV®, INAX® and Permasteelisa® are leaders in the industries and regions. Operating in more than 150 countries and employing more than 80,000 people, we bring together function, quality and design to provide better living solutions to the world today and for future generations. Learn more at www.lixil.com and follow us at facebook.com/lixilgroup.

###