American Standard Helps Audi Field Score a Goal with Fans
The D.C. United soccer team celebrated its inaugural season at its new home, Audi Field, in the summer of 2018. Located along the Anacostia River in Washington, D.C., the 20,000-seat stadium offers premium hospitality for all gameday guests.
Founded in 1996, D.C. United is the most decorated U.S. soccer team. Its first 22 seasons were held at RFK Stadium. Built in 1961, the historic venue seats over 45,000 and hosts baseball, football, soccer and concert events. Before its move to Audi Field, D.C. United was the last of the charter Major League Soccer (MLS) teams to still play on its original turf.
With an investment cost of over half a billion dollars, the professional sports club is now able to play at a soccer-specific stadium. Audi Field is an open-air venue with FIFA-compliant field dimensions. It also has a more intimate atmosphere with 20,000 seats, 31 luxury suites and 2,000 premium seats for field- and club-level memberships.
Audi Field's restrooms feature a variety of durable American Standard plumbing fixtures that elevate the fan experience. Audi Field installed over 325 Afwall Millennium FloWise toilets with Selectronic flush valves, delivering 1.28 gallons per flush (gpf) or 20 percent less than the federal standard. Selectronic has a brass piston flush valve with an integral wiper spring, which is a self-cleaning device that significantly reduces clogging and the risk of run-ons. With no diaphragms to replace or filters to clean, no routine maintenance is required.
The Afwall toilet also features a siphon jet flush that removes solid waste at the highest industry standard of 1000 grams of bulk removal, or 2.2 pounds, with no clogging. The vitreous china base includes a permanent, double-coated surface called EverClean, an antimicrobial additive that inhibits the growth of stain and odor causing bacteria, mold and mildew on the surface. These features improve toilet performance and reduce maintenance needs during peak usage.
The waterless FloWise flush free urinal graces the walls of the men's restrooms. This flush-free unit has an odor barrier liquid that ensures the bathroom stays smelling fresh and clean. The urinal's design also minimizes splashing, which helps reduce bacteria growth. It's flush-free operation will create significant short- and long-term utility savings for Audi Field.
Public and family restrooms include the ADA compliant Lucerne wall-mounted sink. This durable sink is designed to withstand heavy use. The D-shaped bowl with front overflow ensures water drains quickly and effectively.
The Lucerne sinks are paired with the Pillar Tap metering faucet. At 0.5 gallons per minute (gpm), this reliable faucet delivers more than 75 percent water savings compared to models that meet the federal standard of 2.2 gpm. The Pillar Tap faucet features a 10-second flow cycle with automatic shutoff so fans can't accidentally leave the faucet running. Metering faucets prevent excessive water consumption, which helps Audi Field safeguard its utility bills as well as the environment.
Bathrooms in the luxury skyboxes feature the Studio Undercounter Sink that sports a minimalist design. The rectangular sink has a white curved basin made from stain-resistant vitreous china. The unglazed rim and front overflow are understated, yet functional, elements that help this sink deliver a VIP restroom experience.
American Standard products are built to handle the excitement and energy of gameday, assuring every fan a pleasant restroom experience.
The entrance to Audi Field.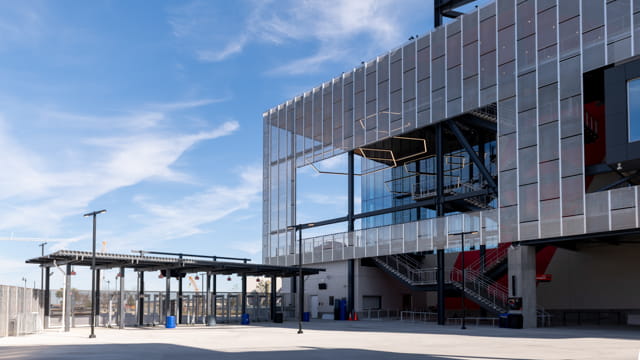 The wide concourse has centrally located restrooms.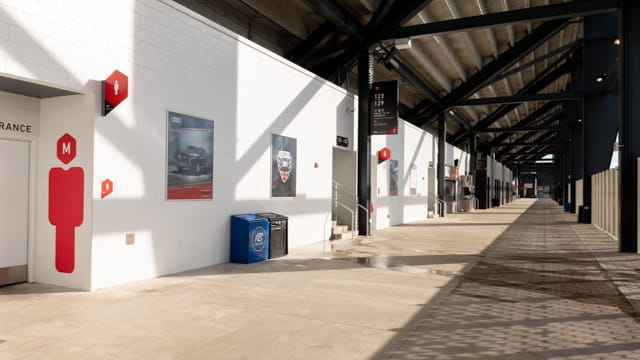 One of the Audi Field luxury skyboxes.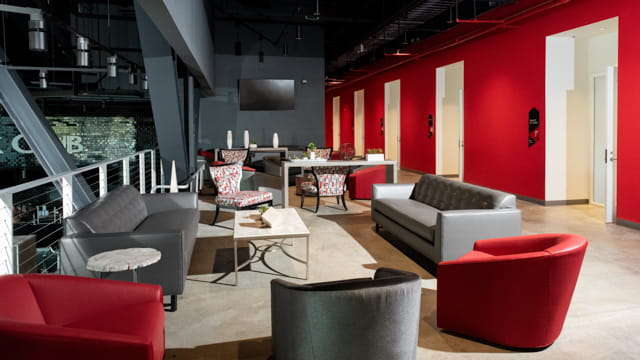 The restrooms in the luxury skyboxes.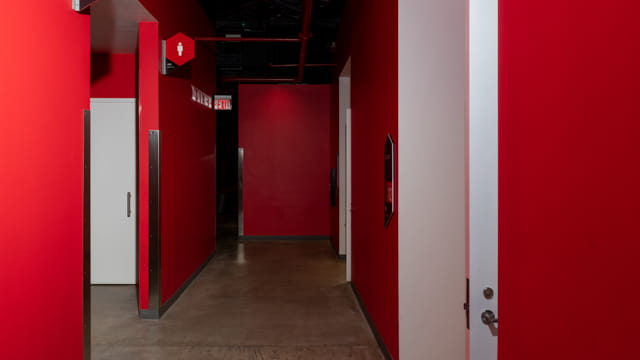 The Afwall Millennium FloWise toilet by American Standard uses 20 percent less water per flush than federal standards. It is used in both the public restrooms and VIP skybox restrooms, shown here, where it is paired with the hands-free Selectronic flush valve.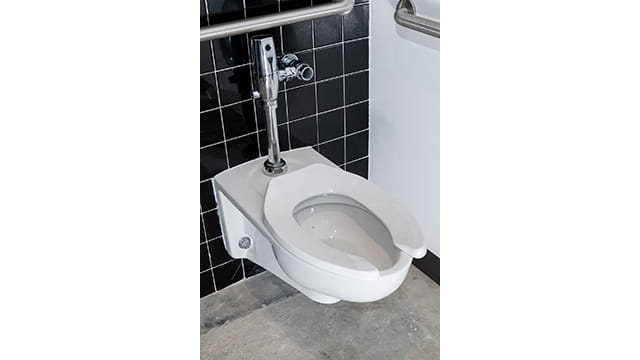 Waterless FloWise flush free urinals from American Standard help Audi Field curb its water consumption in its public restrooms.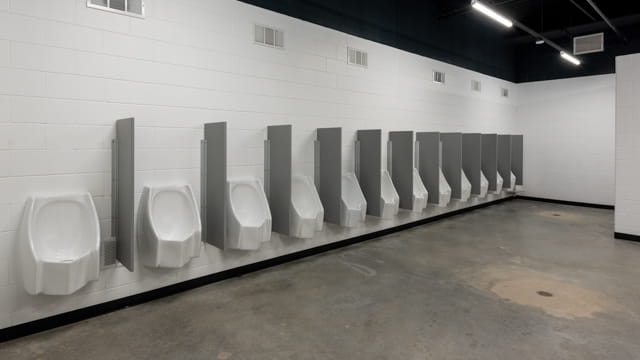 The American Standard Lucerne sink has a contoured back and splash shields on both sides. It is paired with the American Standard Pillar Tap metering faucet which has a 10-second flow cycle and automatic shutoff to save water and avoid overflow accidents.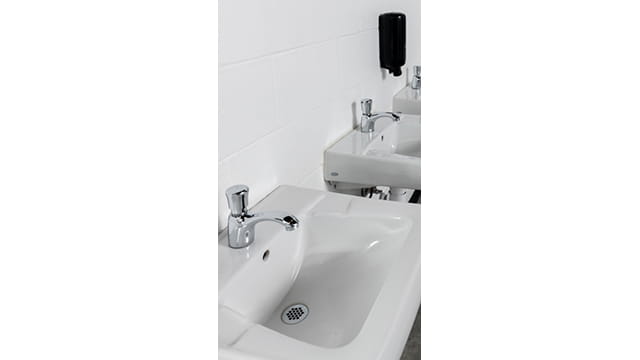 In the Audi Field VIP restrooms, the sleek design of the American Standard Studio Sink includes a rectangular edge and a curved basin.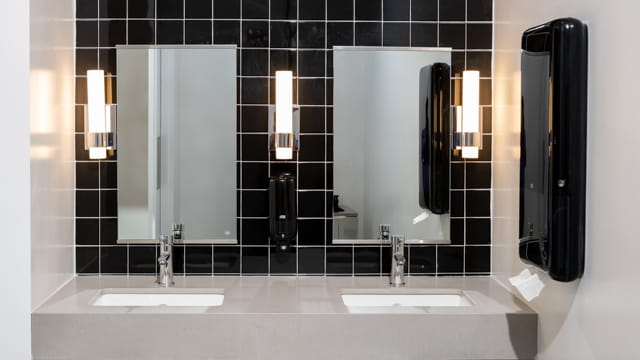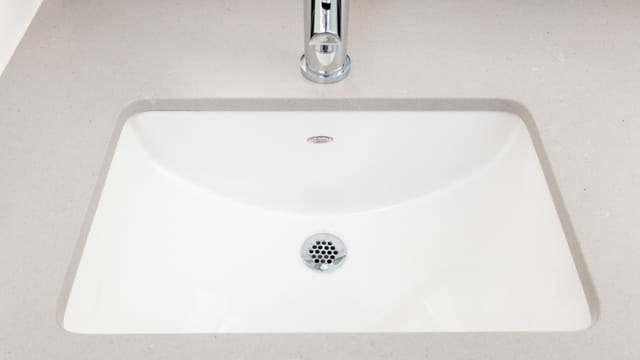 Afwall®, FloWise®, Selectronic®, EverClean® and Studio® Suite are registered trademarks of LIXIL Americas.
Millennium™ is a trademark of LIXIL Americas.